HOW DOES AN UBCO 2X2 COMPARE TO A YAMAHA TW200?
first things first – what is a 2x2?
Two wheels, two hub motors = all-wheel drive and all fun.
The traction, torque, and downright good time resulting from all-wheel drive takes the 2X2 to a whole new level and a category all on its own. The unique sensation of being pushed and pulled at the same time while you ride, being able to power up hills and through the mud is what our users love about the 2X2.
Another unique feature is the chainless drive. With a motor driving each wheel, powered by the central, high capacity battery, there's no need for chains, exhaust, petrol, oil, or the noise caused by traditional internal combustion engine motorbikes.
Adventure trail bikes are one of the purest forms of two-wheeled travel. They are designed to go anywhere, on any terrain, in any weather. And while there are many different adventure bikes on the market, two stand out as leaders in this category: the UBCO 2X2 electric motorbike and the venerable Yamaha TW200.
So, which one is the better bike? To answer that question, we need to compare them side-by-side.
Starting with the UBCO 2X2, this electric adventure bike is powered by a 2.1kwh (or optional 3.1kwh) 50-volt battery and has a top speed of 50 kilometres per hour. It also has a range of up to 120km, making it ideal for medium-length adventures.
The Yamaha TW200, on the other hand, is a gas-powered bike with a 196cc engine. It has a top speed of 113 kilometres per hour and a range of up to 225km with its 7L fuel tank.
In terms of power, the UBCO 2X2 produces significantly less horsepower than the Yamaha TW200. However, it more than makes up for this with its electric motor, which is much more efficient than a gas engine with instant, on-demand torque, dual drive wheels for increased traction, and regenerative braking that improves handling and extends the life of the battery.
The electric motor also gives the UBCO 2X2 a much shorter stop-and-go time, as there is no need to wait for the engine to warm up. Simply push a button and you're ready to go.
Trail riding is where these bikes really shine. Both are beginner and trail-friendly. While the Yamaha TW200 has a considerable advantage when it comes to power, the UBCO 2X2 has the edge when it comes to ease of use and simplicity.
The electric UBCO 2X2 is so easy to use that even first-time riders will have no problem getting around. There's no need to worry about shifting gears or using a clutch, as the bike does all of that for you. Just twist the throttle and off you go.
The Yamaha TW200, on the other hand, is a bit more complicated to ride. It has a manual transmission and clutch, which can be a bit daunting for novice riders. It also doesn't have the same level of torque as the electric motors on the UBCO 2X2, meaning that it takes more effort, and a bit of shifting through the gears, to get up to speed.
In terms of handling, riders will find the UBCO to be exceptionally nimble. Without gears, a clutch, and a loud engine running below you, the 2X2 is much easier to navigate tight turns and manoeuvre through obstacles on the trail.
The Yamaha TW200 is a little more cumbersome in comparison, but its extra power comes in handy when riding up steep hills or crossing larger streams. For riders who are looking for a dirt bike type of experience, the TW200 will supply the most thrills for your buck.
Both the TW200 and the UBCO 2X2 come road-ready, equipped with turn signal markers, headlight, brake light, and VIN. Due to its motorcycle classification (and higher top speeds as a result), the Yamaha TW200 is better suited for long-distance highway rides, while the UBCO 2X2 is better for commuting, deliveries, and running errands around town.
Legally, the UBCO 2X2 is classified as a moped and does not require a motorcycle endorsement – just a driver's license to ride. The TW200 is classified as a motorcycle and requires a valid driver's license and motorcycle endorsement to ride.
The UBCO 2X2 has also found root in the courier community. Its electric motor, smooth power, and nimble handling make it perfect for quick urban deliveries.
So, which bike is better for you? That really depends on what you're looking for. If you're looking for a go-anywhere motorbike that is easy to use and can handle any terrain, then the UBCO 2X2 is the clear winner.
Getting you and your gear to the same remote location can be a real challenge. The UBCO 2X2 can help make this easier with its integrated cargo system. This unique feature allows you to strap down gear or supplies using the 17 built-in tie-down points on the bike. Using standard M8 hardware, one can adapt a wide range of UBCO and aftermarket bolt-on products – from storage racks and pannier bags, to specialized load like pelican cases, gun racks, fishing rod holders, additional LED lighting, and more.  
The Yamaha TW200 does not have an integrated cargo system, so you'll have to get creative when it comes to strapping down gear. 
Oftentimes, riders want to transport their bikes to new riding areas and travel destinations. To do this safely and securely, there are a few key differences between electric motorbikes and gas-powered ones.
The electric UBCO 2X2, for example, is much lighter than the Yamaha TW200. At just 70kg (53kg when the battery is removed), it's easy to lift and transport in a truck or on the back of a car. The Yamaha TW200, on the other hand, weighs in at a hefty 126kg. This can make it difficult to move around, especially if you're trying to do it by yourself.
When it comes to the actual process of loading and unloading your bike, electric motorbikes have a definite advantage. Since they don't have gas tanks, there's no need to worry about spillage or leaks. You can simply pick up the bike and lay it in the back of your truck or pop it onto a towball mounted bike rack.
Gas-powered bikes, on the other hand, need to be carefully loaded onto a truck or trailer to avoid damaging the engine or fuel tank. This can be tricky for inexperienced riders and is something that should be done by two people if possible.
Being lightweight, UBCO 2X2 is also much easier to manoeuvre, both on and off the road.
In terms of price, the UBCO 2X2 is more expensive than the Yamaha TW200. The UBCO 2X2 ADV sells for 6,800€ in Europe, versus the TW200's RRP of 4,229€. In the long run though, electric motorbikes are a much more efficient mode of transportation and will save you money in fuel and oil costs and other engine/drivetrain maintenance. Even the annual registration cost is lower, saving you money down the line.
When considering your next motorcycle purchase, both the classic Yamaha TW200 and the electric UBCO 2X2 are great bikes for many different types of riders. The UBCO 2X2 is perfect for those who are looking for a nimble, easy-to-use bike that can handle any terrain, while the Yamaha TW200 is ideal for those who are looking for a more dirt bike-type experience (along with all the dirt, fluids, and smelly emissions).
Check out our case studies to see how the UBCO community put their 2X2s to work.
UBCO 2X2 Adventure Bike
Yamaha TW200 Motorbike

COST TO FILL (€)
(0-100% 3.1kWh battery vs full tank of gas)

0.82€
*based on average residential electricity 0.24€/kWh

12.42€
*based on national average 1.82€/L @ March 2022

ANNUAL ON-ROAD COSTS (Spain, €)

Moped Registration 27.30€

Motorcycle Registration 97.80€

75mi | 120km (3.1kWh battery)

140mi | 225km (1.5gal tank)

Moped / 50cc Light Motorcycle equivalent

196cc Dual Sport Motorcycle

Dual 1kW hub motors for all-wheel drive

Central chain, single wheel drive

Stationary: 0db | Full speed: 75db

Stationary: 85db | Full speed: 95db

104Nm (76.7ft-lb) @ 206rpm

13.7Nm (10.1ft-lb) @ 7,000rpm

1 Year on Bike | 2 Years on Battery
EFFORTLESS
Lightweight & easy to ride, all terrain & all fun.
TOUGH
Tested & validated in New Zealand, adopted globally.
INTELLIGENT
Connected. Safe. Intuitive. Getting smarter every mile.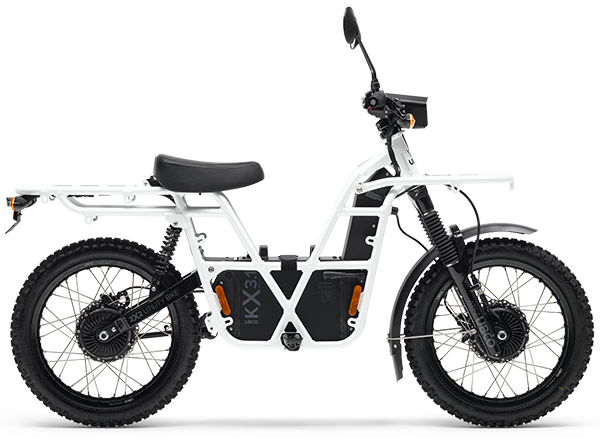 VERSATILE
Built to get the job done & explore with confidence.
QUIET
No noise, low maintenance cost, zero emissions riding.
SAFE
No clutch. No noise. No fumes. Security built in.
TAKE THE 360° VIRTUAL TEST RIDE

Hop on our 360° interactive test ride and see the 2X2 riding through the Moab Desert.
Use your mouse to move around the scene or open in the YouTube app on your smartphone.
PREFER TO FEEL THE WIND ON YOUR FACE?

Get amongst the adventure and book a free, in-person test ride.
Your information will be shared with your nearest authorised UBCO Dealer – they will contact you directly to organise your demo ride. Please note, a valid driver's license will be required for on-road demonstrations. (Your local dealer may have additional conditions which will need to be met.)
AWARD WINNING DESIGN

We are humbled and honoured to be recognized by some of the world's leading authorities on design and business.